Life starts at 40
Freedom at 50
Wisdom at 60
MEMORY: a space in which a thing happens for the second time . . .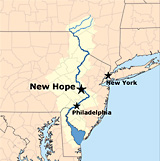 New Hope blossoms in Bucks County,
Pennsylvania, on the beautiful
Delaware River just across a narrow
footbridge from Lambertville, New Jersey.
Spring 1987, I moved into my tiny townhouse in New Hope, Bucks County, Pennsylvania. I was ready for more ruin-trips. And late August, I went with Swan to Eastern Turkey. This trip wetted my appetite, and spring 1988, I took the Anatolia, Turkey tour. While in London where Swan tours start, I toyed with the idea of taking courses at London College. It would mean selling the townhouse as I couldn't afford two premises. Alexander the Great cut the Gordian knot by using his sword, thereby determining his fate. I tossed a coin to determine mine: it was New Hope.Confucius had said: "Choose a job you love and you will never have to work a day in your life." I thought these were words of wisdom and it became my life motto.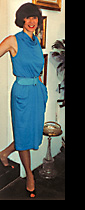 A friend suggested that I start by writing about my past; having gained so much experience in different places meeting people with different backgrounds, my life story should be interesting. Though culture/religion determines a person's perspective, human beings have common emotions. Time and again everywhere, I witnessed what I dubbed the "Bully and Doormat" and "Cat and Mouse" games. I helped young women escape these situations by paying for their plane ticket home. But it dawned on me that my efforts were a waste of my time and money when, months later, I would run into them again; the merry-go-round theater of S/M! I began writing: A Memoir.
One bright day, I went to an event at the University Museum in Philadelphia. To my surprise, my professor was still teaching. I consulted him regarding my ideas on Neolithic foodstuffs and he gave me the green light. I had been to Denmark in 1968, visiting a newly-constructed Stone Age village (see Neolithic Culinary Delights). So I picked up the threads, twenty years later, and I put my life-story on the back-burner.
Doing research on the foodstuffs Neolithic people ate, I became interested in their religious beliefs; in those days considered a "way of life." I read the Sumerian story of how the gods, tired of working for their living (tilling the soil) on Earth, decided to fashion "creatures in their image" that would do this job. That's how indenture/slavery became "instituted;" the seed of sadomasochism? I started my story on why people were so keen to worship deities. Erasmus had written that religion is the cult (adoration, worship) of the invisible . . .
I had no time for extensive trips with all the research and writing, full time activities. Visiting my widowed mother in Arizona and my aunt in Vienna was already a distraction. In 2000, while we were having donuts and coffee, my aunt had a massive stroke. She was 97. Two months I was in Vienna; arranging her funeral and then liquidating the apartment where she had lived for 70 years. Upon my return to New Hope, I needed a rest.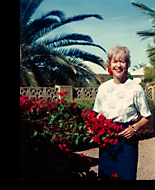 A writer friend recommended I try my hand at a novella. I wrote She Had to Plan; a synopsis on how to promote a vision. Shortly thereafter, The Kiss, inspired by Elfriede Jelinek's novel, The Piano Teacher, an S/M drama. In between, when the spirit moved me, I kept polishing my religious saga. The Blue Mirror is about the history of the soul, the story of humankind, and has just been published in 2010. Then it will be Neolithic Culinary Delights; the story of the first farmers as told by a creative Stone Age woman.
And then . . . I'm ready to go on a cruise!
on to meet some Family and Friends >>